Additional Services
Notification of parameter exceedances

Clients that make their NPDES permit available to ETS will be notified if results exceed any parameter limit. 

This gives the client the option to collect additional samples or to perform corrective action to help maintain compliance.




Fecal coliform colonies (in blue) on the membrane filter media are counted for a wastewater sample.



Working with subcontract laboratories
In addition to the analyses performed by our laboratory, ETS works with several subcontract laboratories.  This enables all parameters found in your NPDES permit to be accommodated.  For many clients, this provides a single point of contact for all of their analytical requirements.
Turn-Around Time
ETS is in contact with all subcontract laboratories to provide the specified turnaround time.
Data Review
Upon receipt of subcontract reports, ETS reviews the analytical data for proper hold times, detection limits and quality control limits.

All subcontract data, including the cover page, report, quality control data and subcontract COC are incorporated into the ETS report.
Quality Control Information
NC DENR inspections, performance evaluations and certifications of subcontract laboratories are reviewed by ETS and maintained on file.
Courier Services
Courier services may be available for locations within Western North Carolina.  Please contact us to see if a courier is available in your area.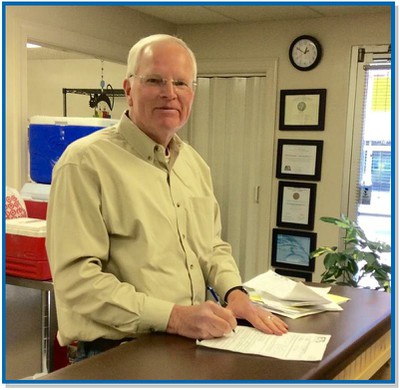 John Kennedy delivering samples to the laboratory and completing chain-of-custody forms.