Toxicity Identification Evaluations and Research Studies
Toxicity Identification Evaluations (TIE)
Determined surfactants as the cause of effluent toxicity to Pimephales at a textile manufacturing plant.
Identified polar organic compounds (amines) as the source of pass-through toxicity from a municipal wastewater treatment facility.
Identified Zn from potable water as the source of toxicity from cooling towers at an industrial treatment facility.
Identified Ni as the primary toxicant and Cu as a secondary toxicant in storm water runoff from a cobalt mine.
Provided evidence that variability in Pimephales chronic tests of several Nuclear and Fossil Power Plant discharges was due to naturally occurring pathogens.  Provided sufficient evidence to have laboratory treatment prior to initiating Pimephales chronic tests implemented in their NPDES permits.
UV treatment for the removal of pathogenic intereferences in Pimephales chronic tests.
Refractory toxicity assessments and Bench-scale Treatability Studies
Performed numerous refractory toxicity assessments (RTA) to determine the potential pass through toxicity that would result from discharge contributions to wastewater treatment plants.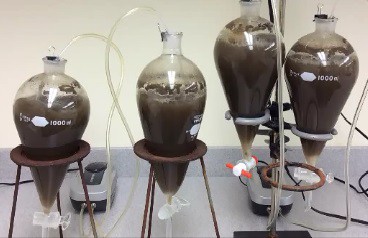 Refractory toxicity assessment to determine pass-through toxicity of a new industrial discharger to a wastewater treatment plant.
North Carolina Action Level Policy
Toxicity identification evaluations performed to provide sufficient evidence to North Carolina Department of Environment and Natural Resources (NC DENR) that Cu and Zn were not the cause of whole effluent toxicity permit violations at several facilities.  As a result, Cu and Zn limits were not added to their NPDES permits.
Chemical and Product Testing
Performed numerous toxicity tests of products and chemicals to be included in Material Safety Data Sheets (MSDS).  Determined the acute and chronic toxicity thresholds of these products to aquatic organisms.
Publications
Lynn Kszos, Art Stewart, and Jim Sumner.  1997.  Evidence that variability in ambient fathead minnow short-term chronic tests is due to pathogenic infection.  Environmental Toxicology and Chemistry.

Jim Sumner, Lynn Kszos, Terry Phipps.  1995.  Impact of naturally occurring pathogens in ambient water samples on fathead minnow survival.  (poster presented at the Second Society of Environmental Toxicology and Chemistry World Conference.  Vancouver, BC)

Lynn Kszos, Bradley Skaggs, Jim Sumner.  Zinc additive in once-through cooling water identified as contributing to toxicity of effluent discharged from the Oak Ridge Y-12 Plant. (poster presentation)

Lynn Kszos and Jim Sumner.  1991.  Is timing everything?  Differences in the response of Ceriodaphnia dubia exposed to two toxicants during or between molts.  (poster presented at the 12th Annual Meeting of the Society of Environmental Toxicology and Chemistry.  Seattle, WA)

LA Kszos, MJ Peterson, RB Petrie, MG Ryon, MR Smith, GR Southworth, JR Sumner. 1996. Report on the Biological Monitoring Program at Paducah Gaseous Diffusion Plant, January - December 1995.  ORNL/TM-13190.